Hello there FRIENDS!!!!
Just a quick reminder that we will be back at one of our favorite venues this Saturday night... The Goathead Salloon in Mesa! This place ROCKS! We have some great shows here, and we can't wait to get back... We hope you all can make some plans for this show!
Also, big thanks to all who attended the benefit "Angel's Run" at the Steelhorse Sallon! We raised a lot of money for this beautiful little girl, and we hope that she is that much closer to getting the medical attention she needs for a new liver! The Arizona Music scene NEVER disappoints us! We love you all.  It was a pleasure to play with Krutch, Stompbox, and Cactus Chainsaw.  Jon Lorenc from Stopbox did a GREAT job organizing all of the bands, providing PA, and running sound.  BIG thanks to Jon!
Ya all have a fun filled week, and we will see you on Saturday!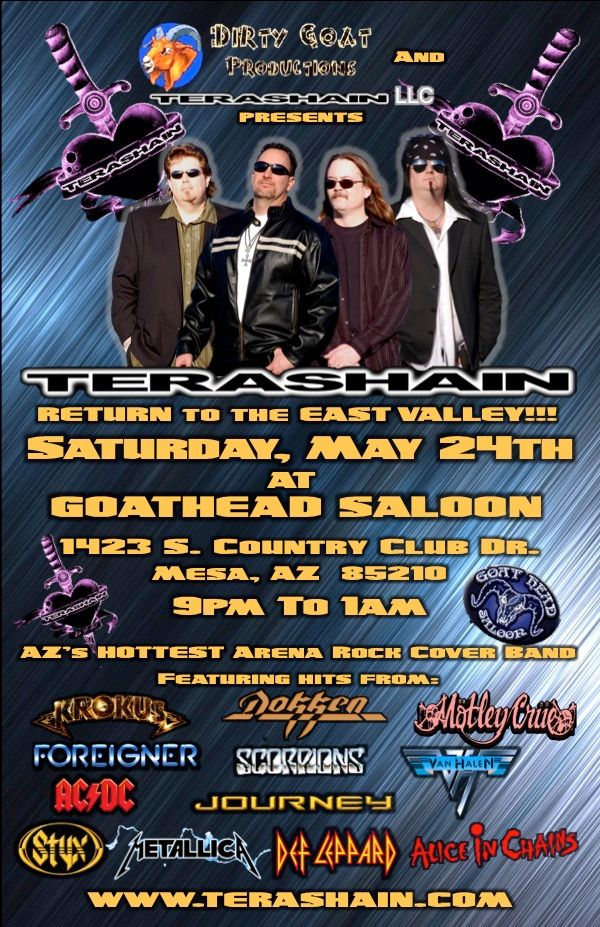 Much love!
Rog/Tevis/Lance/Mikee
TERASHAIN